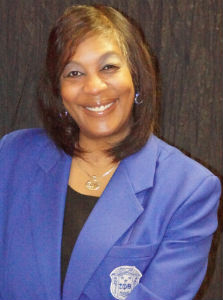 23rd Great Lakes Regional Director
Michelle Porter Norman
Zeta Zeta Chapter – Dolton, IL
Email: GreatLakesRD@zetaphibetasororityhq.org
Appointed the 23rd Great Lakes Regional Director in August 2012 by the 24th International President Mary Breaux Wright, Soror Michelle Porter Norman became a member of Zeta Phi Beta Sorority on March 29, 1987 initiated through the Lambda Epsilon Chapter at Illinois State University in Normal, Illinois where she earned a BS in 1990. As an undergraduate she served as President, Vice President & Secretary. Immediately after graduating, she transferred her membership to the Zeta Zeta Chapter in Dolton, Illinois where she served in various offices including President, First Vice-President, Financial-Secretary, Treasurer, Parliamentarian, & Undergraduate Advisor.
For over 25 uninterrupted years of service to Zeta Phi Beta Sorority, Michelle has served the sisterhood as an elected or appointed officer on every level; national, regional, & state; National: elected Secretary in 2008 at the Las Vegas Boule & re-elected in 2010 at the Dallas Boule; appointed Illinois State Director from 2002-2006; appointed National Director of Community Volunteerism from 1996-2002. Regional: Financial-Secretary 2000-2002, Illinois State Representative-at-Large 1992-1996; Regional Co-Marshal in 2000. State: Chair of the Board 1996-1998; Financial-Secretary 1998-1999. She served on various committees at every level. As the Illinois State Director, the state flourished. She chartered 6 chapters and reactivated 5. Illinois purchased a water well in Africa during her administration. Michelle has attended 10 Boules, 23 regional conferences & 24 state conferences.
Michelle has been a Life Member since May 1998. She was honored by the Great Lakes Region as the "2012 Life Member of the Year." In 2005 she was ZOL certified; Cohort-I. Michelle is a Zeta Legacy, sister, Rochelle Porter initiated in September 2003 through the Zeta Zeta Chapter in Dolton, Illinois & cousin, Stacey Foster initiated in April 1987 through the Nu Delta Chapter at the University of Illinois in Champaign-Urbana.
Professionally, Michelle has been employed for the past 20 years with the Cook County Adult Probation Department as a Sworn Supervisor for the last 15 years and a Probation Officer for the first 5 years. She is a member of the American Probation & Parole Association (APPA). A native of Chicago, Michelle is married and has (2) teenage sons. She is an active member of St. Titus One Missionary Baptist Church in Chicago. She is also a member of the Illinois State University Black Colleagues Association (ISUBCA) & the Lindblom Technical High School Class of 1986 Reunion Committee.